Vasiliades, M. A., Hadjichambis, A. C., Paraskeva-Hadjichambi, D., Adamou, A., & Georgiou, Y. (2021). A Systematic Literature Review on the Participation Aspects of Environmental and Nature-Based Citizen Science Initiatives. Sustainability, 13(13), 7457.
Abstract:
It is commonly argued that, despite the tremendous resonance Citizen Science (CS) has shown in recent years, there is still lack of understanding of important aspects defining citizens' participation and engagement in CS initiatives. While CS initiatives could provide a vehicle to foster forms of participation contributing to the democratization of science, there is still limited attention paid to the "Citizen" component of the Citizen Science term. For the purpose of this work, we systematically reviewed the available literature for empirical studies in respect to citizens' participation in environmental and nature-based CS initiatives established during the last two decades, using the PRISMA methodology. The participatory facet of the retrieved 119 CS initiatives was analysed on the basis of: (a) exclusion and inclusion demographic factors, (b) CS models and practices, (c) facilitators and constraints of citizen's participation, and (d) environmental citizenship. Our findings show that the majority of the CS initiatives did not place restrictions on gender participation; however, we have identified that mostly highly educated adults participated in the reviewed initiatives. In addition, most of the CS initiatives reported in the literature were situated in the EU and USA, were mostly limited to the local scale, and primarily followed the contributory model. Academic institutions were found to coordinate the majority of the CS initiatives examined. By using digital technologies, academic scientists were able to control and increase data quality, as well as to engage a broader audience, even though they were mostly treating volunteers as "data collectors", desiring their long-term engagement. Therefore, it will be of CS benefit to be better aligned with the mentality and needs of citizens. In this direction CS initiatives should trigger citizens' learning gains and interpersonal/social benefits and personal, environmental, and social motivations, but also to shift their goals towards contributing to science and citizens' connection with nature. On the other hand, there is a need to overcome any design and implementation barriers, and to enhance democratization through a more participative engagement of active and aware citizens, thus promoting environmental citizenship.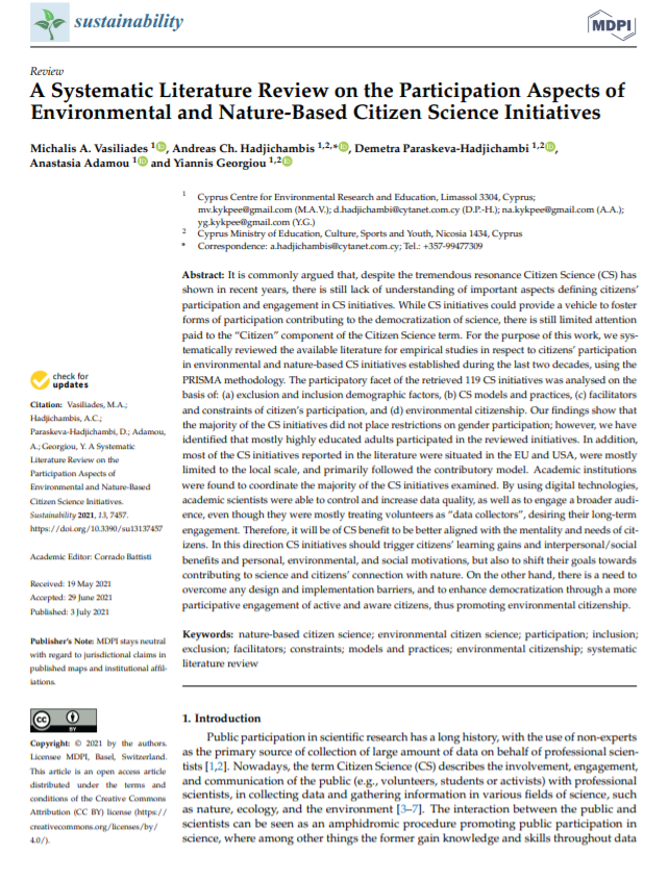 Please find attached here the related article.