The Cyprus Center for Environmental Research and Education (CYCERE) has published the 2018 Calendar, which includes photographic material and scientific information on the Fauna and the Native Flora of Cyprus. The photographs included derive from the photography competition announced by CYCERE in collaboration with the Cyprus Photographic Society (Cyprus) – Limassol Branch, on "Fauna and Native Flora of Cyprus". The calendar lists the World Environment Days, as well as the Ecclesiastical Feasts for the year 2018. Also included are lyrics related to flora, fauna and the environment by poets from Cyprus and Greece.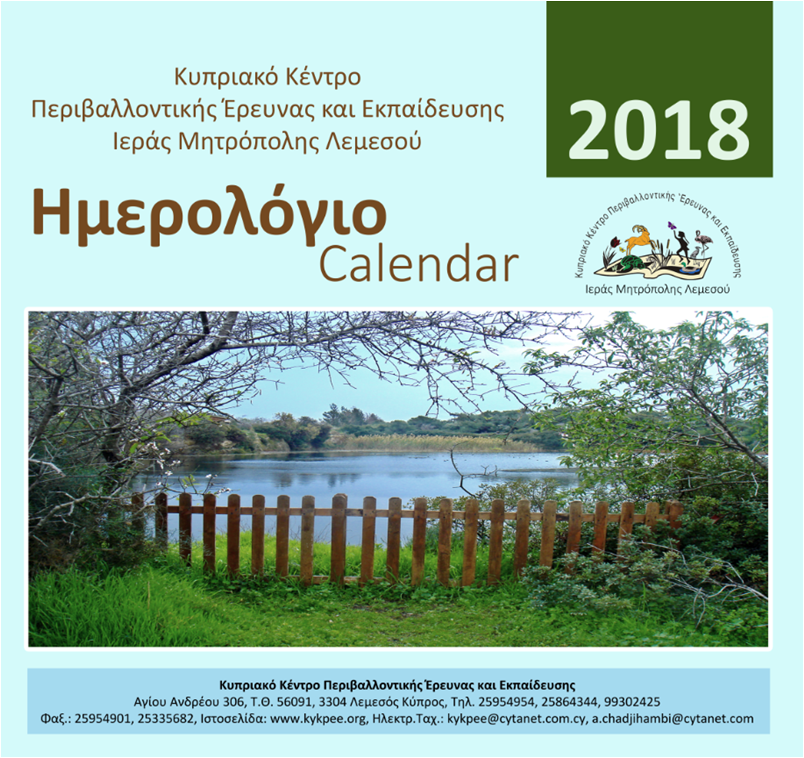 We are very grateful to the photographers whose photos are included in the Calendar of CYCERE and in particular: Aristidou Kosta, Grigorios Rikko, Zoumidis Christos, Mavromatis Floras, Panagis Aliki AFIAP, Panagidis Konstantinos, Paraskevas Charalampos, Pelendridis Giannos, Michailidis Stelios, Chatzipavlou Thanasis and Chrysanthou Andreas.
The poets whose lyrics honored Calendar are: Andreas Hadjachambis, Yiannis Ritsos, Claire Angelidou, Kyriakos Charalambides, Kostas Montis, Mona Savinou Theodoulou, Nikiforos Vrettakos, Nikos Kranidiotis, Odysseas Elytis and Pavlos Valdaseridis.
You can download the CYCERE Calendar 2018  here