The Cyprus Center for Environmental Research and Education (CYCERE) has published the 2020 Calendar, which includes photographic material and scientific information on the Fauna and the Native Flora of Cyprus. The photographs included derive from the photography competitions announced by CYCERE in collaboration with the Cyprus Photographic Society (Cyprus) – Limassol Branch, on "Cyprus: Natural Landscapes and Seascapes" and "Flora and Fauna of Cyprus". The calendar lists the World Environment Days, as well as the Ecclesiastical Feasts for the year 2020. Also included are lyrics related to flora, fauna and the environment by poets from Cyprus.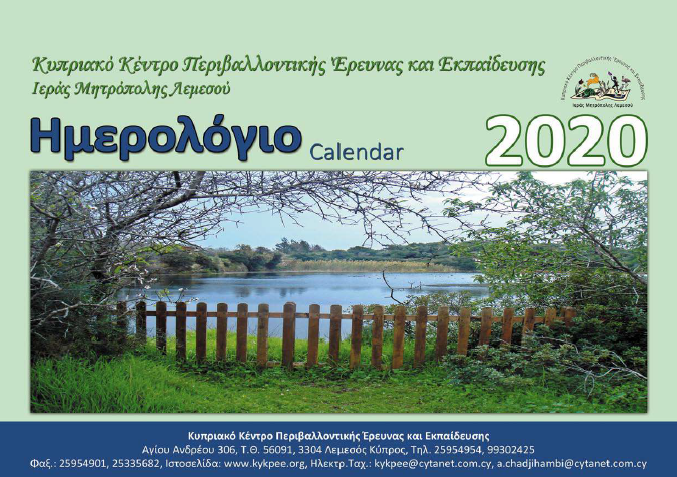 We are very grateful to the photographers whose photos are included in the Calendar of CYCERE and in particular: Aipavlitis Sophocles, Efstathiou Michalis, Zachariou Giannos, Ioannidis Marios, Koula Giannoula, Loizou Dimitra, Panagi Aliki, Paraskeva Christos, Foti Gavriella, Charalambous Sotiroula, Charalambous Charalambos, Xatzipavlou Thanasis, Christodolou Argyro, Chrysanthou Andreas.
The poets whose lyrics honored Calendar are: Anagiotos Kyriakos, Metochi Ifigenia, Petousis Giorgos, Petridis Andreas, Pillas Antonis, Savvidou – Theodoulou Mona, Temvriou Athena, Filoussi Nena, Charalambidis Kyriakos, Hatzimattheou Athos, Hajichambis Andreas.
Click here to download the CYCERE Calendar 2020