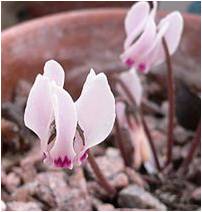 Name: Cyprus cyclamen
Scientific name: Cyclamen cyprium
Family: Primulaceae
Description
A perennial, tubular herb of approximately 7-15 cm of height. The leaves are indivisible, heart-shaped, and fleshy, with a long stem and dentate edges with deep purple color on their lower surface. Its flowers are scente, single-pointed, with a long peduncle and five white or reddish petals, which at the base feature a characteristic irregular M-shaped deep-green belt.
Habitat
Shaded places usually under trees and shrubs, on rocks and steep slopes and near banks of streams. It grows in both limestone and pyrogenic rocks, at an altitude range of 50 to 1100 meters.
Distribution
The only endemic species of three representatives of the genus Cyclamen (Cyclamen persicum, C. graecum) that is native to Cyprus. It can be found in most parts of the island, from Akamas and the wider mountain range of Troodos to Pentadaktylos, and is locally abundant.
Endemism
The name  cyprium  has been given to the species since the species was described based on samples collected from Cyprus where the species is endemic.
Protection
The most important Cyprus cyclamen populations are located within protected state forest areas and are adequately protected.
Sources:
[1] Τσιντίδης, Τ., Χατζήκυριάκου, Γ., Χριστοδούλου, Χ. (2002). Δέντρα και Θάμνοι στην Κύπρο. Λευκωσία: Ίδρυμα Α.Γ. Λεβέντη – Φιλοδασικός Σύνδεσμος Κύπρου.
[2] Merlo, Maurizio (2005). Valuing Mediterranean Forests: Towards Total Economic Value. CABI Publishing. σελ. 217. ISBN 0851994806.
[3] Barbéro, M. (1979). "Contribution à l' étude des groupements forestiers de Chypre". Documents phytosociologiques (IV): 9-34.
[4] http://el.wikipedia.org/wiki/%CE%9B%CE%B1%CF%84%CE%B6%CE%B9%CE%AC
[5] Τσιντίδης, Τ., Χατζήκυριάκου, Γ., Χριστοδούλου, Χ. (2002). Δέντρα και Θάμνοι στην Κύπρο. Λευκωσία: Ίδρυμα Α.Γ. Λεβέντη – Φιλοδασικός Σύνδεσμος Κύπρου.
Photograph sources:
www.wikipedia.org
©Chneophytou