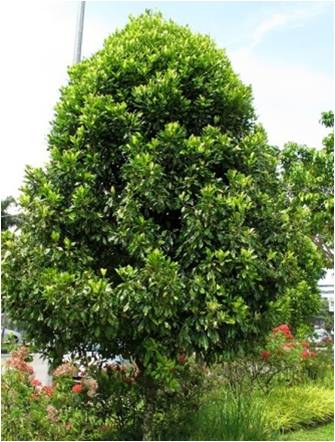 Name: Clove
Scientific Name: Eugenia caryophyllus
Family: Myrtaceae
General Infrormation's
Clove is one of the most popular seasonings in the world, second in sale after pepper [1,2,4]. It is an aromatic flavoring that has a strong, spicy flavor and consists of unripe dried buds [1]. In particular, it consists of the aromatic flower bud of the Syzygium aromaticum tree [1,3,4]. Since this tree was formerly known as caryophyllus aromaticus, it was given the spice and the name clove [1].
Description
This tropical evergreen tree is native to the Moluccas in Indonesia and the Philippines, it has a pyramidal shape with upright branches and a height of up to 15 meters [1,2,3]. Its leaves, except aromatic, are rough, glandular, glossy, elliptic and have a length of up to 10 cm. Their color on the top surface is deep green and lighter on the bottom. Young leaves are usually pink [1]. Its flowering buds are fragrant, arranged in waves and grouped into terminal clusters. At first they are pale in color, gradually becoming green and then when ready for harvest, they change to a bright pink color [1,2]. These buds are harvested around the end of August when they are 1.5 – 2 cm [2,3] in length and each consist of a large, long cap that ends with 4 sepals (flower bud leaves) open outwards and 4 unopened petals, which form a small central ball-dome [2,3]. Each clove tree produces about 35 kg of buds, which are dried in winter with sun exposure [4].
Uses
The unripe dried buds can be found in the market whole or blended. However, good quality, firm nutmeg stands out from the top which should consist of ungulate petals forming a spherical cover [1]. In our kitchen it is used to give aroma, caustic and flavor to a very wide variety of dishes (eg fish, meat, soups, stuffed, sauces, curry, pickles), pastry and bakery products (eg ravan, walnut pie), as well as various drinks (eg liqueurs, wine products, hot drinks) [1,2,4]. Mostly, spice is widely used in Asian, African, Middle Eastern and Middle Eastern cuisine [2].
Clove also contains a powerful essential oil, known as clove oil, which is extracted by distillation from buds, sprouts and leaves [1,2]. Clove oil is mainly composed of eugenol, which is a simple phenolic acid and the cause of its pleasant and sweet aroma [4]. Some of its medicinal uses are found in dentistry, in the preparation of various oral and microscopic cleaning preparations [1,2,3]. This is due to the fact that eugenol has antioxidant, potent antiseptic, anti-inflammatory, analgesic and soothing properties [3,4]. Therefore, when you pour a little cloves of powder onto your cut you will avoid the risk of contamination, the clove oil will stop the toothache, insect bite pain, vomiting and will inhibit nausea, neuropsychiatry and 3 dyspnea [3] .
It is even used in the perfumery and cosmetics industry, as well as in agriculture, as a pesticide and disinfectant, as well as for the protection of food from dangerous micro-organisms for human health during storage [1,2,4]. Despite its beneficial effects, carnation essential oil should be used with caution as it is highly concentrated and considered toxic in large quantities, even causing nausea, abdominal pain, diarrhea, burns, etc. [4]
SOURCES:
[1] Αρωματικά και αρτυματικά φυτά στην Κύπρο, από την αρχαιότητα μέχρι σήμερα. Γεώργιος Ν. Χατζηκυριάκου. Πολιτιστικό Ίδρυμα Τραπέζης Κύπρου. Σύνδεσμος Δασοπόνων Απόφοιτων Δασικού Κολεγίου Κύπρου. Λευκωσία 2007.
[2]https://el.wikipedia.org/wiki/%CE%93%CE%B1%CF%81%CE%AF%CF%86%CE%B1%CE%BB%CE%BF
[3] http://phyto.gr/garyfalo/
[4] http://proionta-tis-fisis.com/garifalo-kai-garifalelaio-paraskevi-ofeli-kai-hriseis/
PHOTOGRAPH SOURCE:
http://1.bp.blogspot.com/-FfmOz2w_DGo/T8QG6twYFeI/AAAAAAAAA8w/GvYwa-bDTSs/s1600/clovetree4.jpg