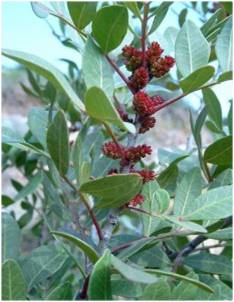 Name: Mastic Tree – Schinia
Scientific Name: Pistacia lentiscus
Family: Anacardiaceae
Description
It is an evergreen resinous shrub that can reach up to 4m and has dark green leaves and trunk covered with light brown bark. The flowers of the plant are brown-green [1,3].
Spreading
This plant has a wide distribution in the Mediterranean countries, the Atlantic islands and in Cyprus as it is located from Akamas and Akrotiri to Pentadactylus and Karpasia at altitudes up to 800m. In Cyprus, Schinia is a very common native species that participates in many different habitats with characteristic shrub vegetation [1].
Biology
Its flowers appear between February and March while the fruiting is observed from September to December [1,3].
Characteristics – Properties
The adjective lentiscus that characterizes the species comes from the Latin language and is synonymous with the Greek word schoini. Although not widely known, Schinia is the plant from which a variety of Chios mastic is widely used in confectionery, bakery, perfumery and pharmaceuticals and cosmetics [1,2,3]. 
Ancient times – Uses
Schinias is one of the plants that has been recorded on our island since ancient times and was known both for its aromatic properties and for the production of resin which was fully exploited by the Cypriots. Initially it is reported that the remains of the fruit of the plant were found in the 6th millennium BC. but also in other great settlements of antiquity such as Sotira and Kissonerga. It is also noted that dated texts of the British period have been found which refer to efforts to develop a mastic production industry in Cyprus corresponding to the existing Chios industry given the widespread development and spread of the plant in Cyprus [1].
Residents of the plant's spreading areas as well as the Cypriots from the very beginning realized and took full advantage of the aromatic properties of Schinias. Indicatively, it is said that the branches of the plant are still used today for fumigation of traditional sausages while in the wider Karpasian region they were used for fumigation of tobacco leaves. In addition, wood has been a major source of charcoal production and the sprouts have been used for tying traditional flesh since they are particularly durable and flexible. At the same time, fruits are widely used in the production of traditional sausages, they are used as a flavoring for cooking hunts and can also be eaten fresh or roasted as an accompaniment to traditional zivania and other drinks. Also, the plant extracts oil which is used as a skin therapeutic and is particularly astringent, and soothing for ear pain. At the same time, oil applied to small piles was used as a raw material for the creation of torches for illumination while in some areas it was edible material replacing in some cases other known oils [1,2,3].
Protection
Although Schinia is widespread and does not appear to be under particular pressure, free grazing, expansion of residential areas with half-timbered areas and environmental pollution could be potential hazards for this plant. It is up to everyone to protect this important and useful plant so that we can continue to receive all of these goods that he reluctantly offers us. Can we?
SOURCES:
[1] Χατζηκυριάκου Γ., 2007: Αρωματικά και Αρτυματικά Φυτά στην Κύπρο. Πολιτιστικό Ίδρυμα Τραπέζης Κύπρου, 2007
[2] http://www.mani.org.gr/hlorida/49shinos/sh.htm
[3] http://en.wikipedia.org/wiki/Pistacia_lentiscus
PHOTOGRAPH SOURCES:
http://en.wikipedia.org/wiki/Pistacia_lentiscus#/media/File:Pistacia_lentiscus.jpg