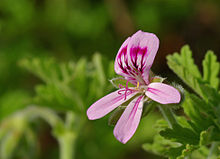 Name: Rose Geranium
Scientific Name: Pelargonium graveolens
Family: Geraniaceae
General information
It belongs to the family of Geraniaceae. In Cyprus it is called koulin or thkoulin and in Greece it is goldsmith, goldsmith and musk leaf. It blooms from April to September.
Description
Polycyclic semi-shrubby perennial plant. Hair shoots with glandular and non-glandular hairs, which are not woody. Leaves alternate, sometimes opposite, with dense hairs, soft to the touch, segments irregular, more than 3 mm wide, stem more than 10 cm. Flowers arranged in a shade at the top of the flowering pod. Petals whitish to pale purple, the upper 2 with bright purple spots.
Development
Kiullin is a fast growing plant that prefers sunny or semi-sunny places. The soil should be light (sand rich) so that it drains very well. Its roots do not tolerate excessive moisture. It is not particularly demanding on nutrients and can grow satisfactorily even in very arid soils. It is cultivated in Cyprus as an ornamental and aromatic. It is found in courtyards, public gardens and aromatic crops in all cities and in almost all communities on the island. (altitude 0 – 600m). Native to South Africa (introduced in European countries in the 17th century) and the adjective Graveolens (from its Latin name Pelargonium graveolens), it was given to the plant because all its parts give off a heavy odor.
Uses
Quinine has a special aroma, reminiscent of incense and a herb that has a relaxing effect on the body and acts as a very good insect repellent. Its fragrant leaves are used in home-made pastries, such as: for flavoring sweets (cherry, watermelon, zucchini, quince, golden apple, etc.), jam, syrups and pasta. In Greece because it is used for the flavoring of dumplings, it is also called dumplings flower. In some countries, the flower oil and the essential oil derived from its leaves and flowers are used as a substitute for rose oil. It is still used in perfumery, cosmetics, soap making and more. The fragrance produced by the plant could also be described as the fragrance of our skin as it is one of the best herbs that help to maintain a radiant and healthy skin. The oil and its essential oil can be used as a massage in creams or waxes. The branches of the plant are used in the construction of the pulse, as well as in religious ceremonies such as at the epitaph ornament and at the Feast of the Holy Cross, where they are offered to the faithful along with a basilica. They are also used along with other fragrances to fill the dead pillow according to tradition.
Therapeutic Properties
Pelargonium, after numerous scientific studies, has proved to be one of the most useful natural products with a range of therapeutic properties. It is considered to be the most effective against nausea, as a painkiller against arthritis, relieves migraines and lowers cholesterol. Finally, kouli helps in the treatment of ulcers, in the treatment of eczema, herpes zoster, cellulite, edema, bruising, hemorrhoids and menopausal problems while the diuretic action of tea helps in detoxifying the body.
SOURSES:
[1] Αρωματικά και αρτυματικά φυτά στην Κύπρο, από την αρχαιότητα μέχρι σήμερα
[2] Δέντρα και θάμνοι στην Κύπρο. Φιλοδασικός σύνδεσμος Κύπρου.
[3] http://el.wikipedia.org/wiki/%CE%A0%CE%B5%CE%BB%CE%B1%CF%81%CE%
B3%CF%8C%CE%BD%CE%B9%CE%BF_%CF%84%CE%BF_%CE%B2%CE%B1
%CF%81%CF%8D%CE%BF%CF%83%CE%BC%CE%BF
[4] http://foodcodex.blogspot.com/2013/10/pelargonium-graveolens.html
[5] http://www.enter2life.gr/wp/21417-pelargonion-to-varyosmon-pelargonium-graveolens
-rose-geranium-armparoriza-therapeutikes-idiotites.html
PHOTOGRAPH SOURCE:
http://en.wikipedia.org/wiki/Pelargonium_graveolens