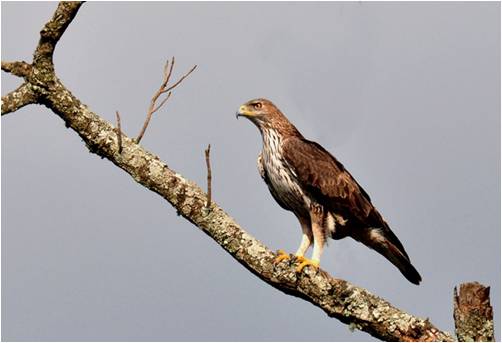 Name: Bonelli's eagle
Scientific name: Hieraaetus fasciatus
Family: Accipitridae
General information
The Bonelli Eagle (Spezaetus) or as it is known in Cyprus, Perticosynchino is a rare eagle that lives permanently in Cyprus and has a special place among bird lovers. It's Scientific name is Hieraaetus fasciatus.
Description
It is a medium-sized eagle with a size of 66-74 cm in brown on the upper part of the body and on the upper part of the wings and white with black spots or lines on the underside [i]. The full length of its wings can reach 150-175 cm and its weight can be 1600-2160 gr. However female eagles found to be more than 2,5 kg [ii].
Breeding season
The mating begins in November or December, and consists of large circles and flights over the nesting area [iii]. The litter, which starts in southern Europe from early February until mid-March, consists of two, rarely one or three eggs, which are laid at intervals of two to three days. The incubation lasts from 42 to 44 days and it's made mostly by the female, who stays in the nest while the male provides the food. The first born chick kills the second [iv].
Food
It feeds on birds, small mammals, lizards and snakes. He is an excellent hunter who combines the power of the eagle with the flexibility of the hawk. This means that it can stalk its prey in contrast to the other heavier predators of its genus.
Protection
Its population has declined sharply in recent decades. [v] Today the population of Spezaetus in Cyprus does not exceed 30 pairs and is considered a threatened species. It is protected by European Union and Cypriot legislation and is included in Annex I to the Birds Directive 79/409 / EEC. But can we stop the population decline of the Bonelli Eagle? Increasingly, every decision we make, individual or within our family, work or school, has a significant impact on the natural environment. Our daily habits will determine what the planet we live in will be and what environment we will pass on to future generations. So it's up to us to protect the natural environment by starting to change our habits.
SOURCES:
Γ. Χανδρινού-Α. Δημητρόπουλου,Αρπακτικά Πουλιά της Ελλάδας, εκδόσεις Ευσταθιάδη, Αθήνα, 1982.

Iezekiel, D. E. Bakaloudis, C. G. Vlachos: The Diet of Bonelli's Eagle Hieraaetus fasciatus in Cyprus. In: R. D. Chancellor, B.-U. Meyburg (eds): Raptors Worldwide. WWGBP/MME, Budapest, 2004: S. 581–587

Collin Harrison, Nests, Eggs and Nestlings Of British and European Birds, Collins, 1988.

[1] Κουρτελλαρίδης, Λ. (1997). Τα πουλιά που φωλιάζουν στην Κύπρο. Λευκωσία: Συγκρότημα Τράπεζας Κύπρου – Πτηνολογικός Σύνδεσμος.

http://el.wikipedia.org/wiki/%CE%A3%CF%80%CE%B9%CE%B6%CE%B1%CE%B5%CF%84%CF%8C%CF%82




Χανδρινός & Δημητρόπουλος, σ. 114, σ. 187

http://el.wikipedia.org/wiki/%CE%A3%CF%80%CE%B9%CE%B6%CE%B1%CE%B5%CF%84%CF%8C%CF%82




Iezekiel, D. E. Bakaloudis, C. G. Vlachos

http://el.wikipedia.org/wiki/%CE%A3%CF%80%CE%B9%CE%B6%CE%B1%CE%B5%CF%84%CF%8C%CF%82  




Harrison, p. 102

http://flipbooks.gamefund.gov.cy/files/assets/basic-html/pagehtml
PHOTOGRAPH SOURCE:
www.wikipedia.org