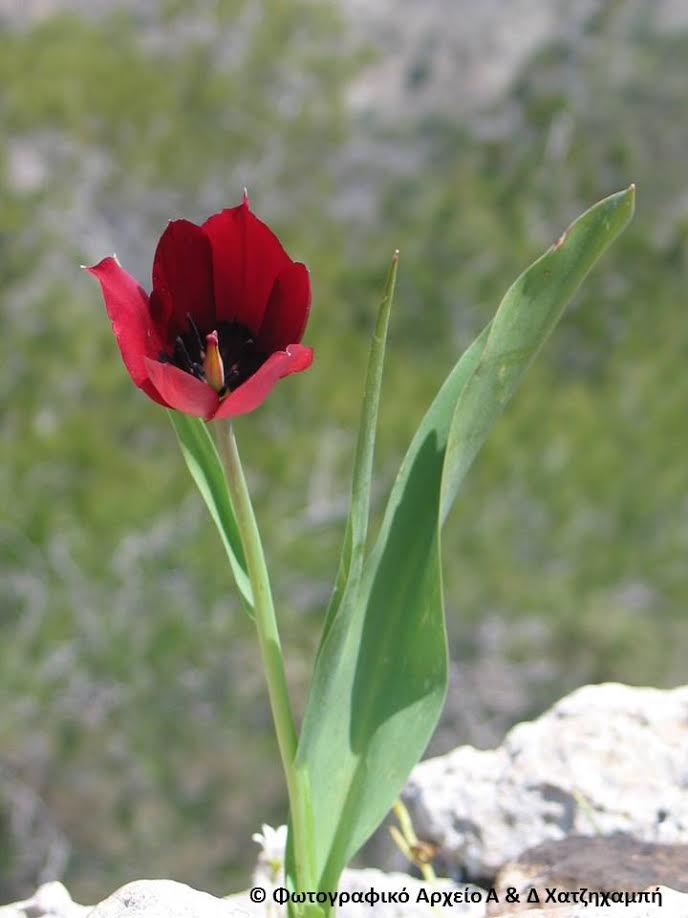 Name: Cypriot tulip
Scientific name: Tulipa cypria
Family: Liliaceae
Description
It is perennial, bulbous, erect, 15-40 cm tall (in bloom), naked, glaucous green. It has a flower at the top of the stem, with 6 free petals. Its petals are dark reddish red in color and have a black rounded spot at the base of their inner surface. It blooms from March to April. Fruit capsule.
Spreading
It is found in forests, meadows and cereal fields, in limestone rocks, at an altitude of 150 to 300m.
Endemism
The tulip of Cyprus rightly took the title of endemic species of Cyprus because it does not grow anywhere else in the world. It is a rare species that is limited to the forest of Akamas, Kormakitis, Mammari – Denia, Karpasia and some areas of Pentadaktylos.
Protection – Threats
It is included in the strictly protected plants of the Bern Convention. Unfortunately, it is in danger of extinction because it is cut for its beautiful flowers and because the crops are made today with machines that dig deep, thus uprooting the plant bulbs. It is also threatened by herds that graze in its distribution areas and feed on its young leaves and fruits.
Sources:
[1] Κυπριακά είδη πανίδας και χλωρίδας και τύποι οικοτόπων που εντάχθηκαν στη συνθήκη προσχώρησης της Κύπρου στην Ευρωπαϊκή Ένωση. Υπηρεσία Περιβάλλοντος, Υπουργείο Γεωργίας, Φυσικών Πόρων και Περιβάλλοντος. Γραφείο Τύπου και Πληροφοριών, Λευκωσία: 2003.
Image sourse:
© Φωτογραφικό Αρχείο Α & Δ Χατζηχαμπή