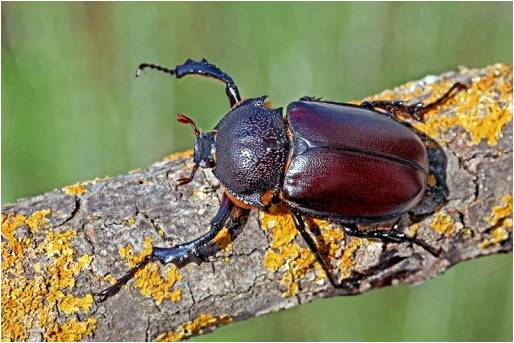 Scientific name: Propomacrus cypriacus
Family: Euchiridae
Description
Propomacrus cypriacus is a large and impressive Coleoptera, a beetle, with a length of 40 mm and glowing black-brown colour. Features are the two pointed ends at the side of the chest and the very long, sawn, front legs [1,2,3].
Habitat
Until 2002, very few old individuals of this kind in the entomological collections were mistakenly considered another species of rare Coleoptera, Propomacrus bimucronatus, which is found in Greece and Western Asia. However, the collection of a significant number of Cypriot specimens by Cypriot researchers Christodoulos Makris and Gabriel Georgiou allowed its detailed study and the identification of significant differences by Propomacrus bimucronatus [1,2]. Thus, this beetle was described in 2002 by Belgian Robert Alexis and Cypriot Christodoulos Makris [1,3]. This species is found only in Cyprus and nowhere else in the world. There are sporadic observations of this species in various areas of Cyprus such as Akamas, Panagia, Alethriko, Korfi and Amathousa [1,2]. It prefers areas where there are perennial oaks in which it reproduces. Its presence in areas where the oaks are absent indicates that it is likely to use other old trees for its reproduction, such as locusts [1,3].
Threats
Nowadays Propomacrus cypriacus faces many dangers and is threatened with extinction. One serious risk is the degradation, deterioration or even loss of its habitats. Furthermore, deforestation of large natural areas and fragmentation of ecosystems threaten the survival of this beetle [2].
It should be noted that this species belongs to Annexes II and IV of the European Union Habitats and Wildlife Directive following a proposal by the Republic of Cyprus to the European Union during the accession negotiations [1,2]. ]. According to the IUCN Red List of Threatened Species, Propomacrus cypriacus is classified as a critically endangered species and its protection is an urgent need [2].
Conservation – Protection
What can we do to protect Propomacrus cypriacus? There are many ways in which we can contribute to the efforts to protect the environment and the Cypriot flora and fauna. Let our friends and family know about the importance of invertebrates and the need to protect them. Let us respect every kind of life on this planet. Let us not, by our actions, lead one more kind to extinction. Let's stop using chemical fertilizers that poison our soil and water. Let's prevent the killing of invertebrates by the unconscious as a supposed way of fun. We can;
Sources:
[1] http://www.moa.gov.cy
[2] Nieto, A., Petrakis, P., Schmidl, J. & Pettersson, R. 2010. Propomacrus cypriacus. The IUCN Red List of Threatened Species. Version 2014.3. <www.iucnredlist.org>. Downloaded on 29 December 2014.
[3] http://www.treknature.com
[4] http://www.cyprusbiodiversityforkids.com
[5] http://www.bio.auth.gr
[6] http://www.ypeka.gr/
Source of Image:
http://www.treknature.com/
© Christodoulos Makris