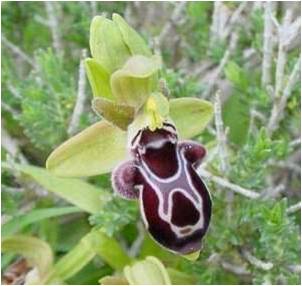 Name: Melissaki (little bee)
Scientific name: Ophrys kotschyi
Family:  Orchidaceae 
Description
Perennial, upright, 10-30cm tall, with 3-6 leaves. Inflorescence 3-10 flowers, in a spiral arrangement at the top of the shoot. Sepala 3, green or slightly pink. Petals 3, the two lateral olive-green with reddish hue gloss elliptical, dark purple, brown or deep purple, velvety.
Spreading
It is found mainly in breadcrumbs and shrubs, meadows, sparse pine forests, fields and desert land, wetlands and limestone rocks.
It blooms from March to April and bears fruit in May. Ripe capsules are kept on the plants for a few days before opening to release the sperm.
Endemism
Melissaki is an endemic plant of Cyprus and has been identified in at least 30 locations.
Protection – Threats
The sites in the Athalassa National Forest Park, a site in Kosi as well as part of the sub-population in Akrotiri are located on state forest land. Also, the subpopulations in the areas of Mammari, Mitsero-Kato Moni, Agios Sozomenos and Aliki Larnaca are located in Natura 2000. The area in Akrotiri is located in a British Military Base and the second under Turkish occupation.
Most sub populations are on private land without any protection regime. Because it is found in limestone rocks, it is absent from the main volume of forest areas in the free areas with the exception of Akamas and Arkotiri. In the occupied territories, there are some sub populations on forest land such as Pentadaktylos and Karpasia, which could not be mapped and counted.
Because most subpopulations are found at low altitudes, in areas with strong anthropogenic effects, the population is declining and has already been destroyed or degraded in some places, mainly in the region of major Nicosia, Mesaoria and Larnaca-Limassol. The main threats are residential and tourist development, road construction, deforestation for various other purposes and over-collection by researchers. The inability to reproduce inherent in the species is likely to pose an additional threat.
Sources:
[1] http://lsg.ucy.ac.cy/Flora/Flora_Official/Index/Index.html
[2] Το Κόκκινο Βιβλίο της Χλωρίδας της Κύπρου. Φιλοδασικός Σύνδεσμος Κύπρου
 Image sourse:
Φωτογραφικό Αρχείο Α & Δ Χατζηχαμπή