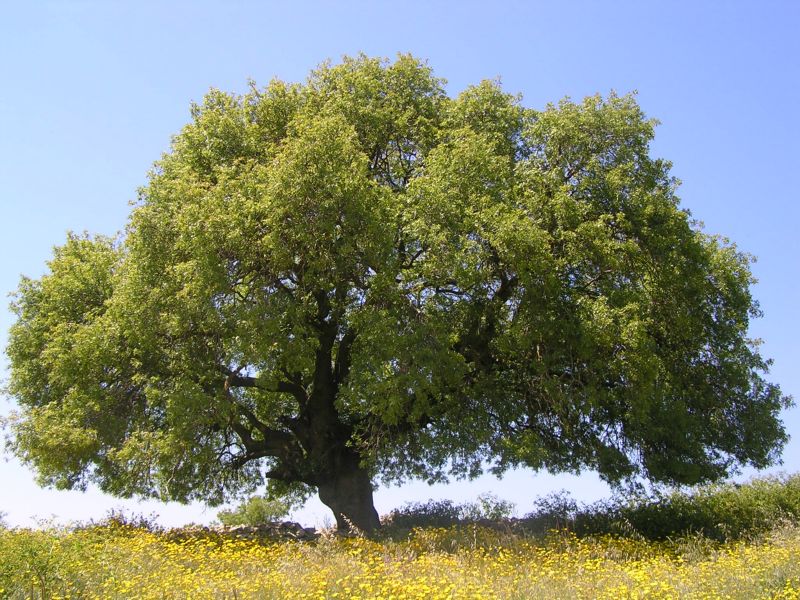 Name: Mt. Atlas mastic tree 
Scientific name: Pistacia atlantica
Family: Anacardiaceae
Description
Mt. Atlas mastic tree is a large deciduous tree with a wide crown and a height of up to 15 meters. It is known by the scientific name Pistacia atlantica. The genus Pistachio, to which Mt. Atlas mastic tree also belongs, includes about 11 species that are distributed mainly in the Mediterranean, Asia, Mexico, the USA, the Atlantic islands and Tropical Africa. Of these, Tremithos, Tremithia and Schinia are native plants of Cyprus.
Habitat
The spread of Mt. Atlas mastic tree in Cyprus starts from the sea surface and reaches up to 1500m altitude. We often find it in the courtyards of old houses and near chapels.
Uses
The well-known Paphos chewing gum is produced from Mt. Atlas mastic tree. It's resin is used as a raw material for the manufacture of tar. Trementina, a thick and resinous substance, is obtained from old Mt. Atlas mastic tree, from incisions in various parts of the tree trunk with an axe or pickaxe. From the special treatment of trementina, the chewing gum is produced, which has a characteristic natural aroma and many healing properties.
The fruits of Mt. Atlas mastic tree are used as a seasoning for the preparation of local pie, the tremithopites, while in many areas they are eaten fresh or crispy with salt. Also, in some areas the fruits were used for the preparation of tremitole oil which was used for frying. Its wood is useful as firewood.
Threats and protection
In Cyprus, due to the rapid housing development of last years, Mt. Atlas mastic trees was limited to a few, small and sparse clusters that occur in private areas. However, there are many individual trees, especially in the southwestern part of the island.
The Department of Forests in its effort to protect the species has selected some large age-old trees, which have been declared Monuments of Nature. The largest Tremithos in perimeter that has been identified is located in Polis Chrysochous and has a trunk circumference of 8.60m, while the oldest tree is located in the village of Apaisia ​​and its age is estimated at around 1500 years. Other protected Tremithos are located in the villages of Simos, Kritos Marottos and Limnati, while some protected clusters of trees are located in the villages of Emba and Kiti.
The environment needs the active participation of all of us. Only if we all contribute will we be able to solve the environmental problems on our planet. What can we do to protect Mt. Atlas mastic tree?
There are many ways in which we can contribute to the efforts to protect the environment and the Cypriot nature. Increasingly, every decision we make, individually or in our family, at work or at school, has a significant impact on the natural environment. Let us avoid the expansion of settlements and crops in areas that have left small clusters or individual Mt. Atlas mastic trees. Let us avoid the opening and widening of roads in these areas. 
SOURCES:
[1] "Δέντρα και Θάμνοι στην Κύπρο", εκδόσεις. Ίδρυμα Α. Γ. Λεβέντη – Φιλοδασικός Σύνδεσμος Κύπρου, Λευκωσία
[2] 2002.2. "Δέντρο της Χρονιάς 2005, Τρέμιθος", Ενημερωτικό Φυλλάδιο Τμήματος Δασών
PICTURE SOURCE:
http://www.dora.org.cy/gr