Andreas Ch. Hadjichambis, Pedro Guilherme Rocha dos Reis, Demetra Paraskeva-Hadjichambi,Marta Romero Ariza, Jelle Boeve-de Pauw, Niklas Gericke,Marie Christine P.J. Knippels, Andri Christodoulou
Preface to "Education for Environmental Citizenship":
A series of existing environmental problems (both global and local) constitute the scenery of environmental crises. Environmental citizenship is recognized as an important aspect in addressing global environmental crises (Stern 2011; Ockwell et al. 2009). Education for Environmental Citizenship (EEC) is the type of education that cultivates a coherent and adequate body of knowledge, as well as the necessary skills, values, attitudes, and competencies that an environmental citizen should be equipped with in order to be able to act and participate in society as an agent of change in the private and public sphere, on a local, national and global scale, through individual and collective actions. It pushes them toward solving contemporary
environmental problems, preventing the creation of new environmental problems, in achieving sustainability as well as developing a healthy relationship with nature. 'Education for Environmental Citizenship' empowers citizens to practise their environmental rights and duties, as well as to identify the underlying structural causes of environmental problems, develop the willingness and the competencies for critical and active engagement and civic participation to address those structural
causes, and act individually and collectively within democratic means, taking into account both interand intra-generational justice (ENEC 2018). The scope of this Special Issue was to provide a platform for researchers to share their research work on the field of education for environmental citizenship, including aspects of civic engagement and civic participation, democratic action, social and environmental change, individual and collective actions, environmental actions, socio-political actions, environmental justice, inter- and intra-generational justice, and connectedness to nature.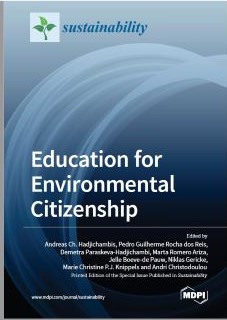 Download the book for free:
https://www.mdpi.com/books/book/6108-education-for-environmental-citizenship