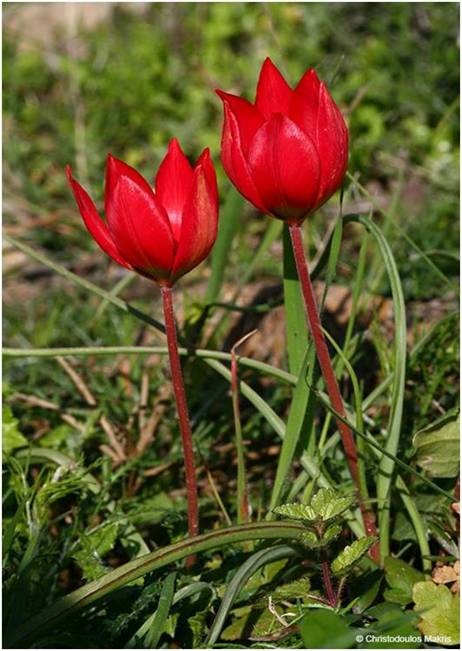 Common Name: Tulip of Akamas
Scientific Name: Tulipa akamasica
Family: Liliaceae
Description
It is an upright, bulbous plant that reaches a maximum height of 30 cm. It has a flowering stem green below and on the upper half it has flower solitary, bright red, with black basal blotch bordered by narrow yellow zone [3].
Biology
Blooming occurs mainly in the months of March – April, while fruiting ends in May [2].
Spreading
The whole population of the species, with a number of individuals that is not exceeding 200, is located on a hillside of Akamas at ~ 370m altitude, dominated by dense phrygana and mosaic soils of serpentine and limestone nature.
Endemism
This tulip was first found in 1991 by Christos Charalambous but it was not registered as a new species because the plant was wrongly considered to belong to a known species on the basis of initial studies [2]. But with more in-depth studies, it is clear that tulip of Akamas is a new species that is endemic in Cyprus and, more specifically, endemic in the Akamas' Peninsula where it can be found the only population of the species.
Protection
The scarcity of this plant led to its inclusion in the "The Red Data Book of the Flora of Cyprus" in 2007, where it was characterized as "Critically Endangered" [2,3]. The uncontrolled grazing in the area led to the fencing of a part of the tulip's population, but this was not an inhibiting factor in reducing the number of people since the population that remained outside the fencing has undergone severe pressures, with the result that only a few people survive and blossom. Thus, it is understood that immediate management and protection measures are considered necessary to enable the population to reach satisfactory survival levels [2].
As suggested by the authors of Christodoulou and Charalambous, it is imperative to extend the fence to include and protect the entire population of the species. Additionally, it is suggested that mildly controlled grazing is applied, in order to restrict the growth of toast, but grazing is prohibited from the end of winter until June so that the flowering and fruitiness of the plant can be successfully complete [2].
SOURCES:
[1] http://news.discovery.com/animals/new-species-111213.htm.
[2] Christodoulou C.S., Hand R. & Charalambous C., 2014: Tulipa akamasica (Liliaceae), a new endemic species from Cyprus.  Fl. Medit. 24: 207-214. 2014. — ISSN: 1120-4052 printed, 2240-4538
[3] Tsintides, T., Christodoulou, C.S., Delipetrou, P. & Georghiou, K. (ed.) 2007: The Red Data Book of the flora of Cyprus. – Lefkosia.
SOURCE OF PHOTO:
© Christodoulos Makris