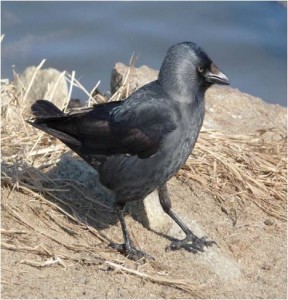 Name: Eurasian Jackdaw
Scientific name: Corvus monedula
Kingdom: Animalia
Phylum: Chordata
Class: Aves
Order: Passeriformes
Family: Corvidae
Description
Colic is the smallest species of crow. Its plumage is usually gray-black with a grayish neck and a dark gray belly. The color of his eyes is white.
Spreading
Permanent resident of Cyprus and winter visitor, who lives in groups.
Ecology
This species nests on rocks, tree trunks, medieval walls and castles. Its eggs are blue-green in color with dark spots. The number of eggs is 4-6 and their incubation lasts 18 -19 days. They feed on worms, insects and eggs of other birds.
Behavior
Characteristic of this bird, especially those that are domesticated, is their attraction to anything shiny (eg gold.)
Sources:
[1] Πουλιά της Κύπρου, του Λουκά Χριστοφόρου, AFIAP, 1998
[2] http://www.iucnredlist.org/details/106005758/0
[3] http://ibc.lynxeds.com/photo/eurasian-jackdaw-corvus-monedula/immature-bird-2cy-walking-along-riverbank
Image source:
http://en.wikipedia.org/wiki/File:Coloeus_monedula_Ham_Common
,_London_Borough_of_Richmond_upon_Thames,_England-8.jpg
© Maxwell Hamilton