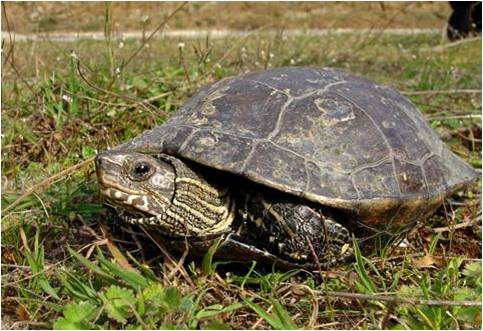 Name: Riverworm
Scientific name: Mauremys rivulata
Family: Bataguridae
Description
The length of the riverworm's hull, its carabus, reaches up to 30 cm [2]. Male individuals are smaller in size than females. [2] Its body colour is dark gray-oily to dark brown while the ventral part of the shell is yellow to black [1]. Characteristic are the yellowish lines on the feet, neck and head [1].
Feeding
The young riverworm are mainly fed with invertebrates, while the adults are mainly herbivores but they can also feed on fish, amphibians, small snakes, aquatic insects and carcasses [1,2]. The beloved habit of the river is to come out of the water and to be soaked in places where it is easy to escape [1].
Spreading
This species spreads on the southern coasts of Croatia, Greece, Turkey and Mediterranean segments of the Near East [1]. In Cyprus, the river can be found in wetlands around Nicosia such as the Kochiates Dam and the Pediados River and the town of Chrysochous. It prefers wetlands at low altitudes with dense vegetation and muddy bottom [1,2].
Reproduction
It usually bore 4-9 eggs in holes which they are digging into soft soil. The hatching takes about 2 months [1,2].
Threats
It should be noted that its populations have declined dramatically in recent years. The main threats to this species are the drainage of its habitats, the pollution from litter and toxic substances [1]. Also, a recent and major threat to the riverbed is the competition with the red-eyed Trachemys scripta. The red-eyed waterfowl has originated in America and it is a species that sells pet stores and it is often released by their owners in wetlands. Also, there are reports in Cyprus that the riverworms bring luck so many people collect them to sell them [1,3,4].
Protection
The riverworm is protected by the National Legislation with the Nature Conservation and Wildlife Law [No.153 (I) / 2003] "and it belongs to Annexes II and IV of Directive 92/43 / EEC, i.e. to species requiring protection and imposing special areas of by member states [1].
SOURCES:
[1] Τα ερπετά και τα αμφίβια της Κύπρου- Ερπετολογικός Σύνδεσμος Κύπρου, 2014
[2] www.herpetofauna.gr
[3] http://www.iucnredlist.org/details/22028/0
[4] The Amphibians and Reptiles of Cyprus, Felix Baier, David J. Sparrow, Hans – Jorg Wiedl, 2009.
SOURCE OF IMAGE:
http://www.herpetofauna.gr
© Ηλίας Στραχίνης