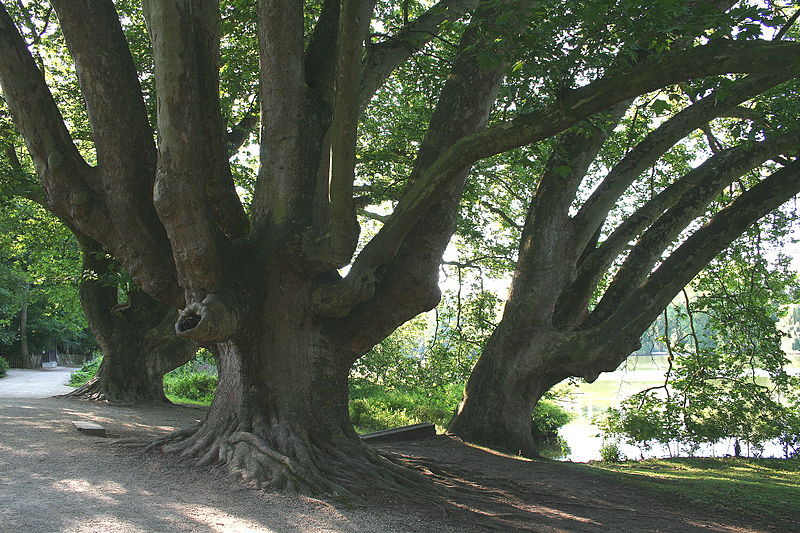 Name: Oriental plane tree
Scientific Name: Platinus Orientalis
Family: Platanaceae
Description
The plane tree is a deciduous tree over 30m tall, with a straight trunk and rich foliage. The bark of this tree is brown and often shows a small degree of exfoliation and sometimes reveals the white and sometimes the brown color inside. Its leaves are simple, leathery and have a shape resembling the palm of our hand [1,2].
During the autumn months, from their dark green color, it turns golden yellow, so that it greatly changes the appearance of the tree. Its stem is cylindrical about 2-6cm. The flowers of the plane tree are small with a green color that then turns reddish and remain hanging on the branches for a long time. Its flowers are divided into females and males and when ripe they turn into fruits that have a spherical shape like a very small head. The flowering period of the plane tree ranges from April to May and the ripening period from October to November [1].
Habitat
The plane tree is found on our island as a native tree of Cyprus that is located near ravines or near water sources. It is a very common tree in general in all the provinces of the island along the rivers, such as in the forests of Akamas, Paphos, Troodos at an altitude of up to 1600m with the exception of the plain of Mesaoria, where it occurs rarely or not at all.
It is a majestic, long-lived tree that requires a lot of space and deep, moist but drained soils. It thrives in both temperate and continental climates, but it is not very cold, because the young trees mainly cannot withstand prolonged cold climates. The plane tree when planted as an individual tree in a large area can take a free shape, while when grown in rows or used for shade in the streets or squares it is pruned properly for this purpose [2]. In general, the age-old trees that are inside the forests are protected by the Department of Forests, while those that are outside receive special protection and care by a competent service of the specific department [3].
Threats and protection
The presence of such trees in our country is remarkable, since they managed to survive through very unfavorable conditions from hundreds of years ago, where for example wood was the only source of energy for humans, so the exploitation of the natural environment was reckless. Let us change these habits that destroy our forest wealth, so that it remains alive for future generations. Let us acquire environmental and forest consciousness. Each individual unit of our forest ecosystem is important and has special characteristics for our place that we need to consider in order to protect and preserve them. It is in our hand. Can we;
SOURCE:
[1] Τσιντίδης, Τ., Χατζηκυριάκου, Γ., Χριστοδούλου, Χ. (2002). Δέντρα και Θάμνοι στην Κύπρο. Λευκωσία: Ίδρυμα Α.Γ. Λεβέντη – Φιλοδασικός Σύνδεσμος Κύπρου
[2] http://delta-trees.blogspot.com/2011/05/platanus.html
[3]http://www.moa.gov.cy/moa/fd/fd.nsf/All/006D3FD6D4003893C2257A29001DC498/$file/%CE%91%CE%B9%CF%89%CE%BD%CF%8C%CE%B2%CE%B9%CE%B1%20%CE%B4%CE%AD%CE%BD%CF%84%CF%81%CE%B1%20%CF%84%CE%B7%CF%82%20%CE%9A%CF%8D%CF%80%CF%81%CE%BF%CF%85.pdf
SOURCE OF PHOTO:
http://commons.wikimedia.org/wiki/File:Platanus_orientalis_0bJPG.jpg