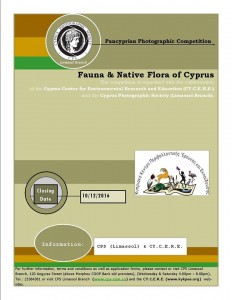 The competition is organized with the collaboration of the Cyprus Center for Environmental Research and Education (CY.C.E.R.E.) and the Cyprus Photographic Society (Limassol Branch)
About the subject:
The flora and fauna of Cyprus compose a beautiful natural mosaic of our country, being a source of inspiration and creation. The term fauna, refers to the animal organisms of a specific area, including the vertebrate species (fishes, amphibians, reptiles, birds and mammals) as well as the invertebrates (worms, insects, snails etc.). Livestock, domestic animals, pets as well as exotic fauna species, are excluded.
The term native flora, refers to all wild plants, which grow in an area (mainly natural area), without any human intervention whatsoever. Therefore, cultivated and ornamental plants of gardens or parks, are excluded. Also excluded, are exotic species of flora (e.g., Acacia).
Within the framework of this photographic competition, we want to receive photos which illustrate representative(s) of the fau-na and the wild flora of Cyprus.
 Attached:
Terms and Conditions and Participation Form