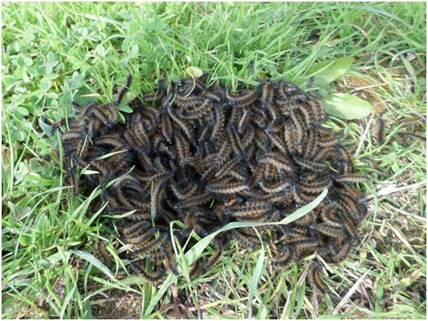 Name: Lowell – Caterpillar
Scientific Name: Ocnogyna (loweii) Cypriaca
Family: Artiicadae
Description
It is an invertebrate insect, the lepidopteran insect larva, which is formed from the egg of a butterfly. It has a worm and a soft body that resembles a small cylinder. The body of the caterpillar is fluffy and vivid in color. It's body is black in color and is covered with fluff. It has a very small size that reaches up to 8 inches. The characteristic of this unique species of caterpillar is that once they hatch from their cocoon, several stays together at one point, and when they reach about 1 to 2 inches in size, they are scattered at different points in an area [6].
Food
It feeds usually on leaves of a single plant and can destroy entire crops.
Biology
The caterpillar is enclosed in its cocoon until transformed into a chrysalis. When it is large enough, the cocoon breaks and the chrysalis inside it slowly transforms into a butterfly. Eggs in a butterfly can form many caterpillars, but few of them manage to mature and survive [2,3,6].
It mainly appears at the end of February with early March so it is called [6]. The image they create in nature is like a black little ball. All caterpillars lie on top of each other until they grow large enough to be released from their cocoon. They are food for birds and other small insects, so some species of caterpillars have distinctive colors that allow them to camouflage in nature. The species of Cypriot caterpillar stands out in nature due to its intense black color and has an unpleasant taste as well as being poisonous [4,5].
Endemism
The Cypriot caterpillar or commonly known as "martoui" is an endemic species of Cyprus.
Custom
A belief that is common to many people is that if one kicks the Lowell deliberately or carelessly, its fate is determined and will remain bald forever. The only solution to avoid this misfortune is to wear one of the bracelets made at the end of February with early March. Many make small thread bracelets that are tangled two or three colors, usually red and white. This is a custom that exists mainly in Cyprus and Greece. The construction of this unique bracelet symbolizes the welcome of spring. In Cyprus it is called "Martoui". In Greece and specifically in the Florina region it is called "Martinga" and in Ioannina "Martichi" [2].
The caterpillar of Cyprus or "martoui" is associated with many customs and beliefs of our country. They are also the prelude to spring and will be transformed into butterflies. Doing bad, then, in the "martui" is destroyed at the same time the circle of the butterfly that with their existence beautify the spring days.
SOURCES:
[1] http://www.musicheaven.gr/html/modules.php?name=Blog&blogger=yokor&file=page&pid=33805
[2] http://drprasinada.blogspot.com/2012/03/blog-post.html
[3] http://www.nic.funet.fi/pub/sci/bio/life/insecta/lepidoptera/ditrysia/noctuoidea/arctiidae/arctiinae/ocnogyna/index.html
[4] http://www.nhm.ac.uk/natureplus/thread/5818?fromGateway=true
[5] http://www.whatsthatbug.com/category/caterpillars-and-pupa/page/57/ caterpillar swarms
[6] http://yre-connect.com/Photos/%CF%84%CE%BF-%CE%BC%CE%B1%CF%81%CF%84%CE%BF%CF%8D%CE%B9-%CE%B7-%CE%BA%CE%AC%CE%BC%CF%80%CE%B9%CE%B1-%CF%84%CE%B7%CF%82-%CE%BA%CF%8D%CF%80%CF%81%CE%BF%CF%85/
PHOTOGRAPH SOURCE:
Φωτογραφικό υλικό ΚΥΚΠΕΕ