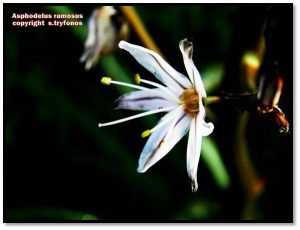 Scientific name: Astragalus ramosus. L
Family: LILIACEAE
Description
Perennial plant up to 1m tall. Stems branched at the tops. Leaves narrow with long length, circular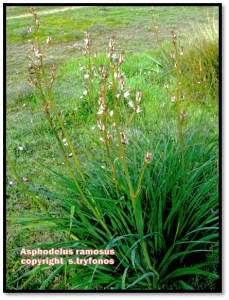 ly surrounding the base of the shoot. Flowers white at the ends of the shoots. Visible reddish-brown line in the middle of the petals. Stamens with white and yellow anthers. Elongated cylindrical pen with white stigma.
Flowering: February – April. Fruit capsule.
Distribution – Toxicity – Use
Very common plant. It is found in barren land, sparse pine forest and road slopes up to 1850m. All parts of the plant are toxic, especially the young flowering shoot, flowers and roots. Its consumption is a precipitation of toxic substances in the young flowering shoots whose pain in the abdomen it consumes and affects the gastrointestinal tract.
Source:
Savvastryfonosplants.com
Image source:
Savvastryfonosplants.com