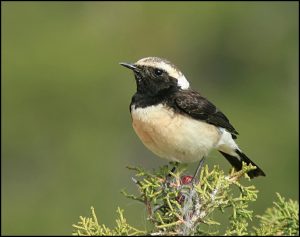 Name: Cyprus wheatear, skalifourta
Scientific Name: Oenanthe cypriaca
Description
The Cyprus wheatear is one of the endemic birds that host the island. The adult male mating, off the mating season, has brown colour to the top of its head and neck, brown back, while its neck and the tallest part of its breast is black with feathers with white edges. The breast of skalifourta is orange-brown, with more pale colour to the rest of its lower body. During the mating season, it usually has a black dot, quite visible at the top of its head. The female during the mating season resembles quite to the male, but is fundamentally different in the colouring of the upper part of the head, which is grey brown, with black spots.
Distribution
It is frequented mainly in open areas with rocks, scattered trees and shrubs, but also in forests and inhabited areas. During the mating season, the males choose to key positions, such as the tops of trees and piles, to sing and to attract the females.
Breeding
It lays 4-5 eggs, with characteristic bright blue color with brown spots and their incubation lasts 13-14 days. The skalifourta feeds on insects and worms. While it is endemic, it is leaving the island especially during the months of winter and it migrates to neighboring Africa reaching up to Ethiopia.
SOURCES
http://www.birdlifecyprus.org/gr/html-81-_.html
http://flipbooks.gamefund.gov.cy/files/assets/basic-html/page156.html
Πουλιά της Κύπρου, του Λουκά Χριστοφόρου
http://www.moa.gov.cy/moa/environment/environment.nsf/0/00ba6ce9ab83760dc22578b80031b6b7?OpenDocument&ExpandSection=6
http://www.cyprusbiodiversityforkids.com/oenanthe.html
IMAGE SOURCE
https://www.katakali.net/drupal/poylia/skalifoyrta