Adamou, A., Georgiou, Y., Paraskeva-Hadjichambi, D., & Hadjichambis, A. C. (2021). Environmental Citizen Science Initiatives as a Springboard towards the Education for Environmental Citizenship: A Systematic Literature Review of Empirical Research. Sustainability, 13(24), 13692.
Abstract:
Environmental Citizen Science (CS) initiatives have been recognized over time as a promising way to engage citizens in the investigation and management of various socio-ecological issues. In this context, it has been often hypothesized that these CS initiatives may also contribute to the education and subsequent transformation of citizens into environmentally aware and active citizens. However, the potential of CS to serve as a springboard for supporting Education for Environmental Citizenship (EEC) has not been explored yet. A systematic review was conducted, seeking to examine how citizens' participation in environmental CS initiatives contributes to the EEC, as a venue through which citizens can undertake actions in different scales (local, national, global) to achieve environmental citizenship. A content analysis procedure was implemented on thirty-one empirical studies (n = 31) retrieved from a systematic review of the literature covering the timespan of the last two decades (2000–2020), according to the PRISMA methodology. The findings indicated that the majority of the reviewed environmental CS initiatives primarily enhanced citizens' skills and knowledge over the competences of attitudes, values, and behaviors. In addition, it was found that CS initiatives empowered primarily citizens' personal and responsible environmental actions, which were situated in the private sphere and at the local scale. The derived environmental outcomes were mainly related to the solution and prevention of environmental problems. Finally, correlational statistical analysis indicated that there were strong correlations between the Environmental Citizenship (EC) competences, actions and EEC outcomes and unveiled a set of keystone components; namely, components of crucial significance in the field of EC. We reflect on these findings, and we discuss directions for future research.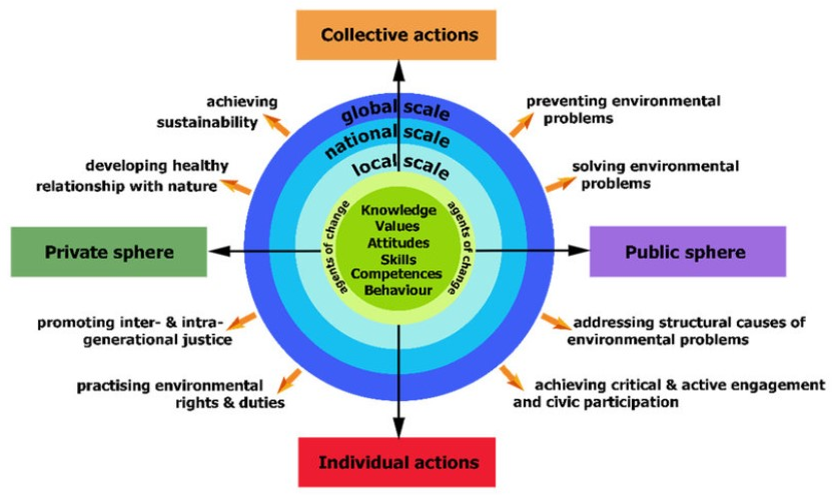 Please find attached here the related article.