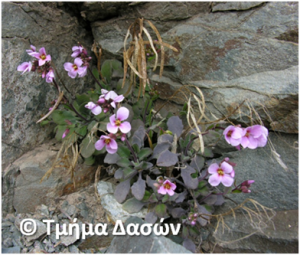 Name: Cyprus rockcress
scientific name: Arabis purpurea
Family: Cruciferae
Description
Perennial plant with a height of up to 30 cm. Its shoots and leaves consist of asteroid hairs. Its leaves are simple, alternately, silver-green. Its flowers are originally arranged in dense corymbose inflorescences which gradually lengthen into vodka. The colors of its petals are distinguished by pink, purple and sometimes white.
Spreading
An endemic plant of Cyprus, which can be found in the Troodos mountain range at an altitude of 400-1800 m.
Habitat
It thrives in refractory and calcareous soils.
Biology
Its flowering period is from March to April and its fruit ripens in May-June. They are propagated by seeds and cuttings.
Value and uses
Decorative plant, suitable for rock gardens and surface coverings.
Sources:
[1] Τσιντίδης, Τ., Χατζηκυριάκου, Γ., Χριστοδούλου, Χ. (2002). Δέντρα και Θάμνοι στην Κύπρο. Λευκωσία: Ίδρυμα Α.Γ. Λεβέντη – Φιλοδασικός Σύνδεσμος Κύπρου.
[2] http://www.plant-world-seeds.com/store/view_seed_item/181
Image source:
http://www.moa.gov.cy/moa/fd/fd.nsf/All/DB8F29C0CCD29A3EC22577A7002A34B0/$file/Arabis%20purpurea-1.jpg?OpenElement