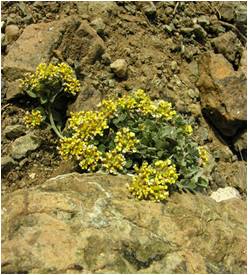 Name: Alyssos of Akamas
Scientific name: Alyssum akamasicum
Family: Cruciferae
Name
Rare species and endemic plant of Cyprus. Its name is based on the Akamas area, because its largest population has been identified and recorded in that area.
Description
It is a perennial plant, with shoots 15-30cm long. During the flowering period from March to April its flowers have a beautiful golden yellow color which is a unique composition in combination with the gray-green color of its leaves. The fruits are circular in shape and the fruiting period is from May to June.
Distribution and habitat
It prefers mainly dry, stony soils in areas of sparse forests at an altitude of 50-300m. The Alyssos of Akamas has been located in a total of 11 locations in the Paphos area: in the Akamas Forest and near the villages of Kissonerga, Chloraka, Emba, Fasoula and Agia Varvara road. Its total population is estimated at about 3,000 plants. The largest subpopulation, about 2,000 plants, is located in the Akama area. The other sites are located in rocky locations and points along rocky terrain.
Conservation – Protection
Its current declining distribution, which declines over the years, ranks it in the red book of the flora of Cyprus and in the list of strictly protected plant species of the Berne Convention. The Alyssos of Akamas is also threatened by residential activity in areas outside the Akamas forest.
Sources:
1. Τα ενδημικά Φυτά της Κύπρο (1995). Τράπεζα Κύπρου – Παγκύπρια Ένωση Δασολόγων. Λευκωσία, Κύπρος
2. http://www.moa.gov.cy/moa/fd/fd.nsf/All/490E3B8F8D52AE32C22577A7002B66B8?OpenDocument&print
3. http://maps.iucnredlist.org/map.html?id=165206
4. Τσιντίδης, Τ., Χριστοδούλου, Χ. & Δελιπέτρου., Π (2007) Το κόκκινο βιβλίο της Χλωρίδας της Κύπρου. Φιλοδασικός Σύνδεσμος Κύπρου.
Photograph source:
http://www.moa.gov.cy/moa/fd/fd.nsf/All/1BA3A7FA33605094C22577A70029CD74/$file/Alyssum%20akamasicum-1.jpg?OpenElement   Τμήμα Δασών Κύπρου