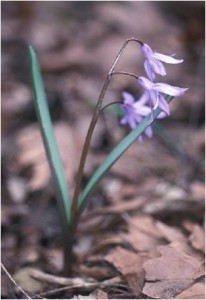 Name: Glory-of-the-snow
Scientific name: Chionodoxa lochiae   
Description
Bulbous perennial plant, with upright flowering shoots up to 30 cm high. Leaves meet, usually 2-3, simply oblong or lanceolate, deep green with copper hue. Perianth uniformly bright blue colour, tube 5-7mm long, parts of perianth 6, 12-13 mm long. Fruit spherical-triangular capsule, seeds almost spherical, slightly wrinkled with olive body.

Spreading
Endemic to Cyprus limited to 10 places in Troodos: Laxia tis Galatas, 40 Mili-Stravarkako, Kakopetrias-Stavroulia Road, Marathos,
Habitat
Fiery slopes with rich moist soils (altitude 900 – 1500m), in shaded places. It forms colonies that are characterized by accumulative distribution.
Biology
Flowering: March-April. Fruiting: May. Dispersion: May – June with ants. Measurements to date indicate that both the reproductive potential and reproductive success of the species are low. Germination is favoured at a temperature of 10 degrees Celsius and is completed slowly, in 70 days.
Preservation status and threats
The total population, based on known subpopulations, is about 3,000 plants, with the largest population in Pedoulas. Its 7 locations are located in a protected state forest land. It is valued as a cosmetic and in some cases is transported to gardens. He is threatened with loss of residence due to the expansion of settlements in Pedoulas, while in the other places he is not in danger.
Value and Use
Species with cosmetic value. It is included in the strictly protected plants of the Bern Convention.
Sources:
[1] Το Κόκκινο βιβλίο της Χλωρίδας της Κύπρου. Φιλοδασικός σύνδεσμος Κύπρου, 2007
[2] http://www.votanokipos.com/index.php?option=com_content&view=article&id=107:chionodoxa-lochiae&catid=43:2008-11-13-20-29-07&Itemid=83