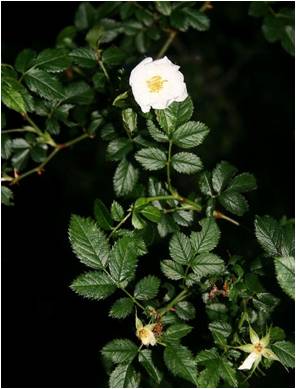 Name: Troodos' rose 
Scientific name: Rosa Chionistrae
Family: Rosaceae
Description
It is a rare endemic species of plant in Cyprus. It's upright, deciduous bush that someone once meets with climbing other trees and sometimes landing on the ground. The gorgeous look of the plant combined with its particular aroma lend a uniqueness to the genre [1,6].
Its height reaches up to 3m. Its branches are placed upright or arched, carrying over them strong and convex thorns. Each flower has a white colour and consists of 4-5 petals that give off delicate fragrance. Its flowering period begins in May until the end of June. Its fruits are almost spherical in shape and deep red in colour, with some sepals on their upper part. Its leaves are bright green, small oval shape with a delicate scent. On its base it has leaflets joined to the stalk [1,3,4].
Spreading
The genus Rosa L. (Rodi) counts over 200 species with spreading in the temperate and subtropical regions of the northern hemisphere. It can be found only on the mountain ridges of the Troodos region, specifically in the area of ​​Olympus or otherwise of Chionistras. That is why it has been given to it this particular name. It is a unique and rare species of wild rose that is located in different habitats such as the black and trachea pine forest, as well as in golden oak shrubs. It is also found on the edges of the streets and in the openings of gullies at a height of 1100 to 1950 m. The areas where this species is recorded are Madari, Alona and Palaichori. Among the many other rare species of plants, the Troodos' rose composes the precious natural wealth of the Troodos region, one of the most important flora biotopes across Europe [1].
Antiquity
In antiquity, its flowers were considered as sacred, because Aphrodite wore them on her hair. The Troodos' rose and its flowers are mentioned in many poems, songs and lyrics from antiquity to the present day. "Rhodes, a flower of flawlessness, rose, of spring concern" (Anakreontia). During the 2nd and 3rd centuries, there are testimonies that prove the enormous appreciation of the roses, since it has founded reference about the rosettes of tombstones in the Kition region [1].
Sources:
[1] Τσιντίδης, Τ., Χατζηκυριάκου, Γ & Χριστοδούλου, Χ. (2002) Δέντρα και Θάμνοι στην Κύπρο. Λευκωσία: Ίδρυμα Α.Γ. Λεβέντη – Φιλοδασικός Σύνδεσμος Κύπρου
[2] http://www.troodos-geo.org/cgibin/hweb?-A=98,printer.html&-V=webcontent
[3] http://plants.jstor.org/stable/10.5555/al.ap.specimen.k000730757
[4] http://www.e-villages.org/images/users/1/flora_fauna/25.pdf
[5] http://colnect.com/en/phonecards/phonecard/30601-Rosa_chionistrae-Flowers_Of_Cyprus-Cyta-Cyprus
[6] Τσιντίδης, Τ., (1995). Τα ενδημικά φυτά της Κύπρου. Τράπεζα Κύπρου
Source of Image:
http://commons.wikimedia.org/wiki/Rosa_micrantha#mediaviewer/File:Rosa_micrantha_1.jpg